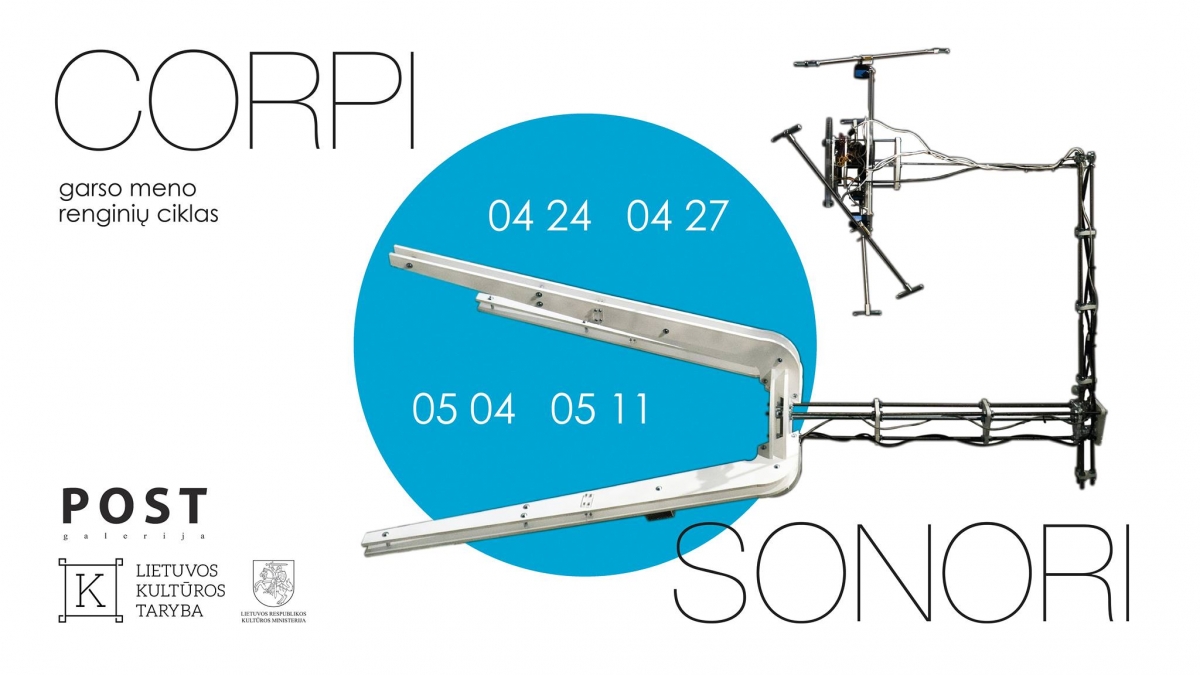 Programme opening – an exhibition by ::vtol:: (Moscow).
One of the most striking features of ::vtol:: oeuvre – the physicality and visuality in the deployment of sound. Both of these terms should point towards the 'materialization' of the process of sound making, achieved with the help of contemporary technology. Digitized information of spatial coordinates (for example, position of an object in relation to X Y Z axes), oscillations of the magnetic field, or feedback between a speaker and a microphone – the sounds generated with the help of such input at the same time are also visual, 'material' systems. In other words, there is a connection between the physical movement of an object and the sound generated by this very movement.
Morozov's work is non-linear, complex and interactive. Therefore, one should not expect to find a linear economy of action-counteraction. Aforementioned magnetism, feedback, or digitized information converted to sound in ::vtol:: work is also supplemented by gravity, resonance, modulation, cyclicality, and other ideas which are borrowed from acoustics and other branches of science. For example, the artist defines Stupa, a piece exhibited at Post gallery, as a compound pendulum which oscillates between the states of inner mechanical resonance and equilibrium.
In the context of CORPI SONORI the exhibition by ::vtol:: is important as it shares kinship with such visual arts as sculpture and installation. Such take on sound as an artistic medium will be a great compliment to the variety of expressions presented in live performances.
More about the artwork selected for the exhibition:
http://vtol.cc/filter/works/modulator
http://vtol.cc/filter/works/stupa
http://vtol.cc/filter/works/metaphase-sound-machine
——————
PROGRAMME
CORPI SONORI or BODIES OF SOUND – is a cycle of sound art events in POST gallery.
During this cycle nine sound performances, an exhibition of sound objects, and an education seminar will be presented. Public wil be able to experience work by Lithuanian, Polish, German, French and Russian artists.
This cycle begins with exhibition of sound objects by an artist from Moscow – ::vtol::. (24th of April). This exhibtion will be followed by three evenings of live sound performances (27th of April, 4th and 11th of May). More info about these artists is provided in separate facebook events dedicated to this cycle.
——————
Corpi Sonori #1
04 24 – 19 val. Exhibition opening
::vtol:: (RU) – "Corpi Sonori" three sound objects
Free entrance
——————
Corpi Sonori #2
04 27 – 15 val. educational seminar (in Lithuanian)
"Strategies for an Experiment",
Authors: Vladas Dieninis, Gintas Rožė, Pijus Džiugas Meižis, Armantas Gečiauskas
Free entrance
04 27 – 20 hrs. sound performances
Hyperdawn (UK / LT) – vintage electronics and tape
Guilhem All (FR) – prepared vynils
Grupa Etyka Kurpina (PL) – sound collage
5 eu / 3 eu (students, seniors)
https://www.facebook.com/events/664506010674022/
——————
Corpi Sonori #3
05 04 – 20 hrs. sound performances
Kamil Korolczuk and Eric Bauer (DE / PL) – modular synth and tape
Aurimas Valaitis, Darius Čiuta, Karolis Platakis (LT) – sound facture
Tiese (LT) – hacked electronics
5 eu / 3 eu (students, seniors)
https://www.facebook.com/events/2342666922676454/
——————
Corpi Sonori #4
05 11 – 20 hrs. sound performances
Juozas Milašius and Augustė Vickūnaitė (LT / DE) – gitara ir magnetinės juostos
Arma Agharta and Florian Walter "Autodelete" (LT / DE) – wind intruments and vintage electronics
Vladas Dieninis and Su-y (LT) – electronic percussion and video projections
5 eu / 3 eu (students, seniors)
https://www.facebook.com/events/2202074366723380/
——————
*Ticket to all events 10eu / 7eu (students, seniors)
To reserve the ticket email: postgalerija@gmail.com
——————
Curated by: Armantas Gečiauskas ir Tadas Stalyga
Sponsored by: Lietuvos Kultūros Taryba, Lietuvos Respublikos kultūros ministerija