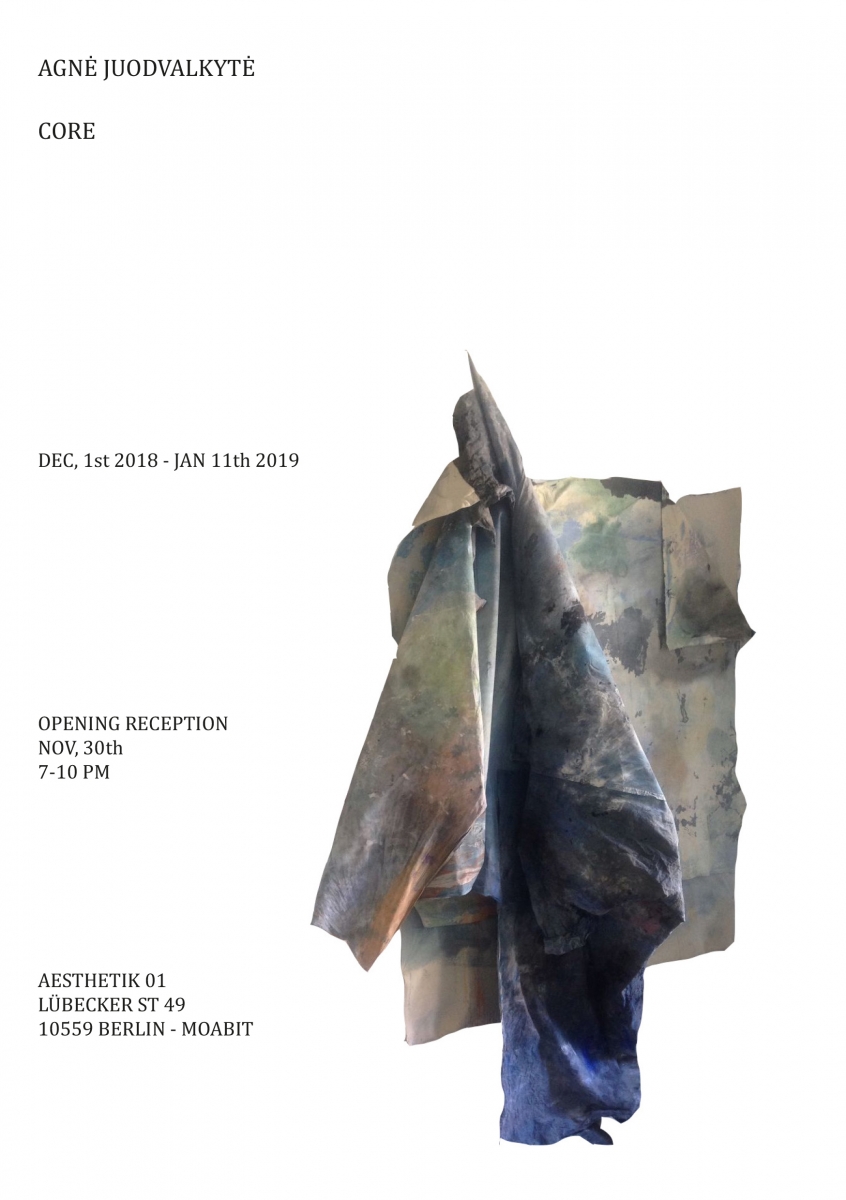 On Friday, November 30th, at 7 pm Off-Space AESTHETIK 01 in Berlin, Moabit is presenting a second solo exhibition "CORE" by Lithuanian artist Agnė Juodvalkytė.
Gisela Elsner in the prologue for her incredible opus "Die Riesenzwerge" writes eloquently about her natural reaction as a child of the post-war era to recollect and re-distribute memory through tactile experience in her adult years. One of her most precious memories that manifests itself in the text in "Die Riesenzwerge" is the memory of her mother hanging the family bed sheets to dry in the spring breeze. Elsner, ever prescient and sensitive to material makes the following note…
"The bed sheets, the bleating of the sun through their fading pink floral patterns with small traces of permanent stains embedded in their weave created an image of my childhood in Nuremberg that I cannot forget. I remember the frayed edges of the sheet, the aforementioned weave becoming thicker at the ends where it all began to unravel. I can still see what appears to be an amber stain, not unlike coffee, but bilious and more familiar in nature. I remember the cool perfumed breeze and the heft of the sheets-their incredible wet heaviness as I helped my
mother place them over the line held taught between two buildings whose limp façades still bore the char marks of a night most would not wish to remember.
Just then it struck me to examine the mattress upstairs in the house to search for the contours of my grandfather, perhaps a divot, perhaps a shallow length of compressed ravine in the bed where I could bury my head to remember all of these painfully necessary things".
Elsner's descriptive passage is speaking loosely about our associations to color, cloth and collective history and memory. Each note that she makes in the passage is to re-live or gain access to a time that she does not remember fully, but feels tangibly close to. The winding sheet on the line, the stain and the sheer weight of it with its fraying ends becomes an intervention to her present condition. She believes she recalls color. She believes she recalls mattresses and matriarchs, but cloth can also be deceptive as it is as fleeting and ephemeral as a person in a crowd.
This is what makes the transfer of cloth, canvas, cotton an often unacknowledged but important medium for transcending time itself. Stains congregate a meaning of presence on a cloth surface. Washes of color, perhaps from crushed summer fruit or intuitive cooking displays harmlessly overflowing to the tablecloth of communion present a trigger that we are able to examine in a future bereft of a physical object to hold. This is the power of texture, of cloth and of the condition of being.
Agnė Juodvalkytė's Core illuminates the lost divide between material and memory-canvas texture and stain to that of abstract, but lucid states of recall. We believe we remember shapes, patterns, blueberries and coffee. We are almost able to taste and smell-to draw companionship or comfort from the cloth that we are not to touch, much like the memories of Elsner's childhood.
Juodvalkytė's Core is at the very base of our physical and sensory world.
BRAD FEUERHELM
AESTHETIK 01
LÜBECKER STR 49
10559 BERLIN- MOABIT
THU- SAT 3-7 PM + BY APPOINTMENT
Exhibition curator : KRISTINA NAGEL
December 1, 2018 – January 11, 2019
Opening: November 30, 7pm