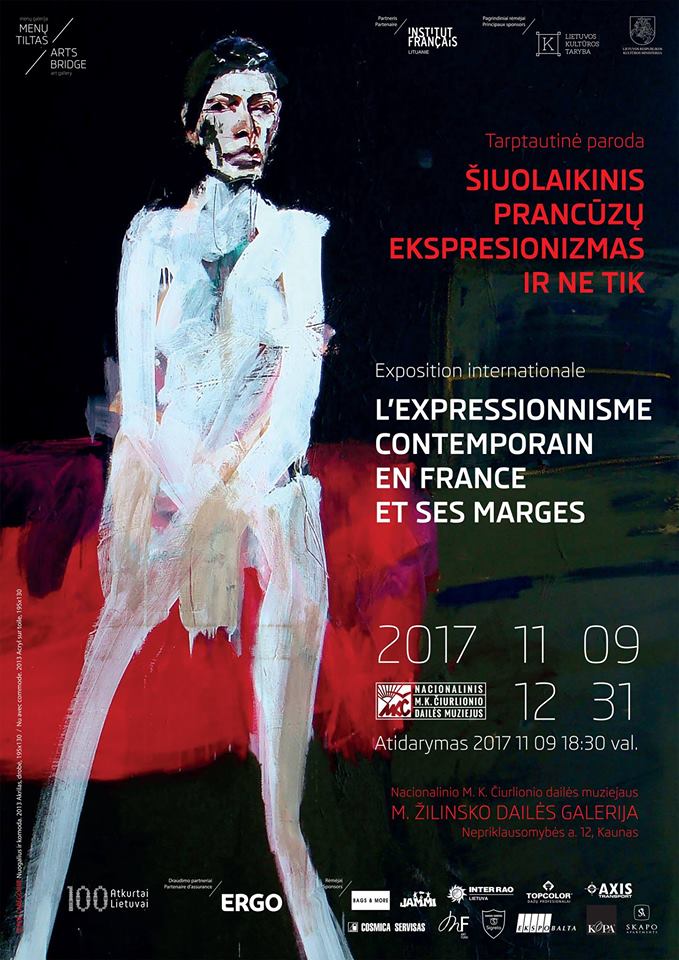 "The expressionists' creativity and weapon is the instability of existence and the great spiritual losses interconnected with it, which the totality of human culture is fighting against… They create within a hardly comprehensible world of emptiness and fullness. Their creations are changing modernism. Their works are the nostalgia of painting." -argues the famous French art critic, lecturer, book author and exhibition curator Chirstian Noorbergen.
The "Arts Bridge" gallery, lead by Christian Noorbergen, is preparing a veritable gourmet artistic feast, the "Šiuolaikinis prancūzų ekspresionizmas ir ne tik"/ «L'expressionnisme contemporain en France et ses marges»/"Contemporary French expressionism and its margins" exhibition to commemorate the centenary of Lithuania's restoration of independence.
13 artists will present their works at the exhibition: painters Francis-Olivier Brunet, Nicolas Gasiorowski, Cristine Guinamand, Serge Labégorre, Niyaz Najafov, Jean-Louis Nehlich, Gérard Stricher, Johan Van Mullem, sculptors Robert Sobociński, Rūta Jusionytė, Marc Petit, photographer Marc Krüger as well as sculptor, painter and performance artist Olivier de Sagazan.
"These artists, brought together from all across Europe, are both close and distant one from another. They speak different languages but they are united by the eternal spirit of creativity. Each one of them goes their own way while distancing themselves from ways more travelled. Art is the aspiration of life without reliance on ideology, without religious limitations or constraints of consciousness. I did not choose premade artists. I chose free Men and Women."- Chirstian Noorbergen.
You will get acquainted with these creative souls in more detail while travelling, step by step, towards the day of the exhibition on the 9th of November.
"We warn you that it will not be easy, but it will be interesting. There will be no sophistication or wish to please the viewer."- Head of the "Arts Bridge" gallery Edvidas Žukas.
……………………..
*the exhibition will take place until the 31st of December* M. Žilinskas Art Gallery of M. K. Čiurlionis National Art Museum (Nepriklausomybės sq. 12, Kaunas)
The project is funded by the Lithuanian Council for Culture and the Ministry of Culture of the Republic of Lithuania.