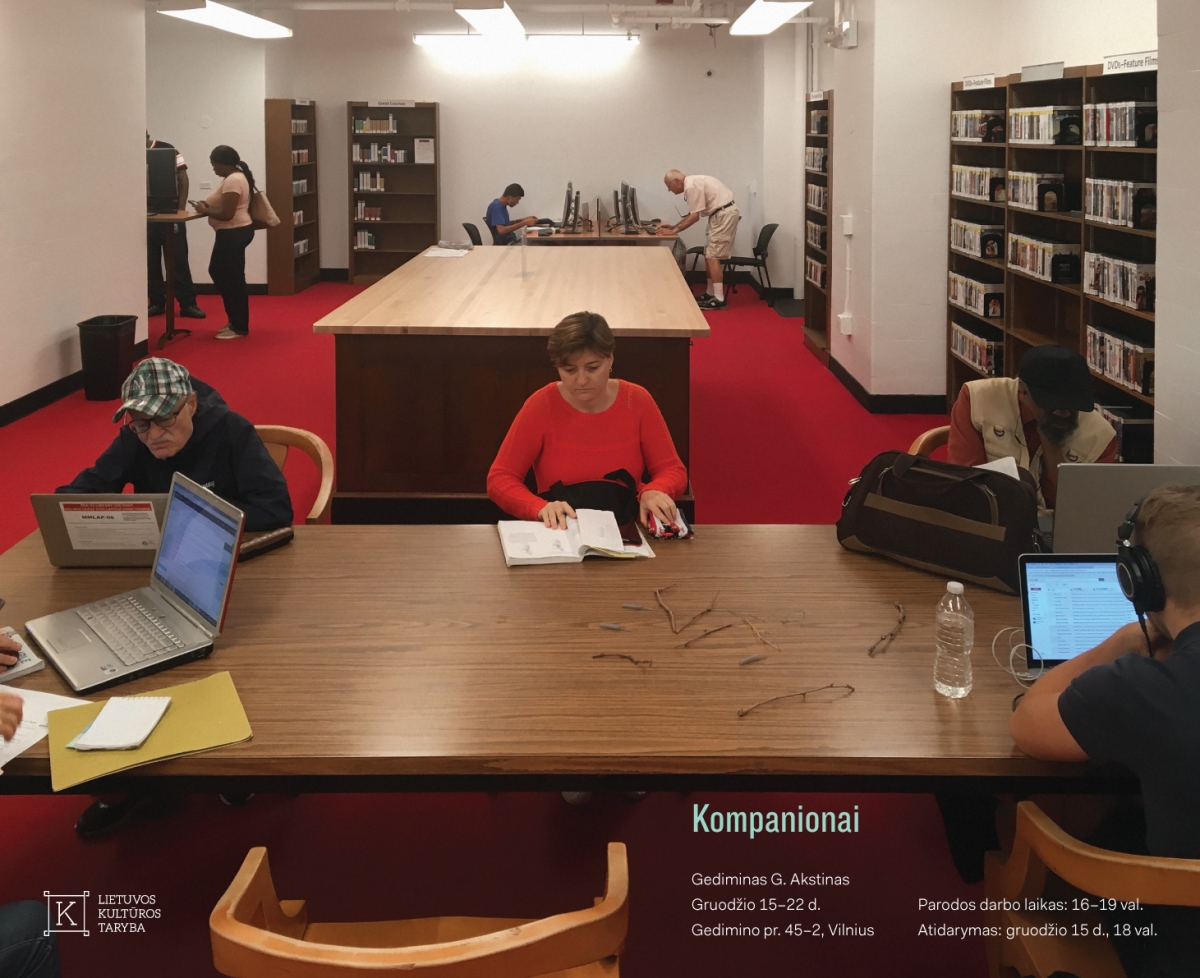 "I was watching the table of unsorted books in the library and the changing combinations of volumes left on it.
I read a story in one of these books, how some ordinary species of European birds would travel in ships across the ocean, in boxes, next to exotic birds, merely to accompany them and keep them from dying of loneliness. Later, these companion-birds blended in and populated new continents, while the exotic species remained exotic due to all the surplus attention they were getting.
This reminded me of a moment from a recent visit in one of the museums of Vilnius. Wandering around the museum, it took a while to notice that all the curtains were missing. The supervisors on duty were reading books, huge 19th Century halls with just a few tables and paintings resembled spacious waiting rooms. Through one of the windows the shadow of a streetlamp fell into the shape of a desktop computer. Once asked, the supervisor informed me: this is the day when all the curtains in the museum are taken down for laundry.
I went up to the window – the weather was nice, the building in front of the museum offering the view of office workers, rows and rows of offices with no curtains"
Gediminas G. Akstinas (b. 1987) is a Lithuanian artist currently residing in Vilnius. His recent solo exhibitions include the "SHIP" (2015) at Kunstverein, Amsterdam and "BROWSERS" (2014) at the short rent apartments in Vilnius. He graduated from the Sandberg Institute of Arts in 2015. His artist publication "it depends" was recently presented at San Serriffe bookstore in Amsterdam and at the CAC reading room in Vilnius.
Friday, 15 December, at 6 pm, the opening of Gediminas G. Akstinas solo show will take place at Gediminas av.45-2. The exhibition will be open until 22 of December, from 4 to 7 p.m.
In case of getting lost: +37067270603
The project is partially financed by the Lithuanian Culture Council.
Special thanks to Gediminas Akstinas, Inesa and Lukas Brašiškiai, Monika Kalinauskaitė, Antanas Laukaitis, Alphonso Lingis, Gerda Paliušytė, Jurgis Paškevičius and Andrej Vasilenko.