The situation of contemporary architecture in Estonia is – as anywhere else – drawing from and feeding back into social, cross-disciplinary relations it builds on. To raise some of the under-discussed topics of this cyclic loop, it is vital to look into the ways in which architects, designers and artists are trained, what are their sources of inspiration, enabling them to confront the challenges in the field. To present two occasions of action research as tool for education – a workshop in Istanbul, at the İstanbul Kültür University  (IKU) and an "actionism" course in Tallinn, at the Estonian Academy of Arts  (EAA) – I must first admit that Guy Debord  is not [completely] dead [yet]. But how to avoid his example of ruthless criticism of contemporary society from turning into a blur, blending in various directions and too often drying off in [the softest of] dead ends?
How to stimulate a culture of asking critical questions – the really hard ones –, which push creative practice further? In many ways, artists seem today way ahead of architects in finding ways to struggle against mechanisms impeding life. In education, it is one thing to evolve the vision and experience of an individual student – future thinker, while it is today perhaps increasingly urgent to focus on possibilities for collective adventures that are able to gather spatial intellect and strategic [design] thinking, to set up a society less absurd than the system at hand. Today's students invent the future. And Guy Debord used to walk a lot on the streets, gathering stamina for his initiatives, the new movements the Internationale Lettriste (1952-1957) then the Internationale Situationniste (1957-1972) which became the key instruments of his interventions…
"Intervening Istanbul" workshop at the "Educating the Future. Architectural Education in the International Perspective" organized by IKU was exactly this kind of platform for experiencing team work where participants came from various schools across Europe. The focus was on reading the dynamics of Istanbul and making an intervention to city life by physically constructing an "obstacle", an interaction point, to stop people on the streets. Each school, including the EAA, joined with four representatives: one academic and three students. Mixed teams were assisted by local coordinators, all participants were considered equal – in other words, "academic" and "student" statuses were not valid during the workshop process which proved immensely successful as a method for action research.
The EAA students Heli-Maarja Varvas (installation and sculpture), Heleriin Vaher (architecture) and Silver Liiber (architecture) worked with their groups on installations around the touristy Galata tower – a high, cone-capped cylinder that dominates the skyline and offers a panoramic vista of Old Istanbul and its environs. As the workshop progressed, a certain behavioral pattern emerged: while the foreign students were readily taking on the challenge to confront people in public space, the local students started to prevent the construction from becoming excessively obtrusive in streetscape. The subtle, word-free struggle between students from different cultural backgrounds – mounting and demounting, constructing and deconstructing their structures on the streets – was intriguing to watch, making one question the intention to intervene [in Istanbul].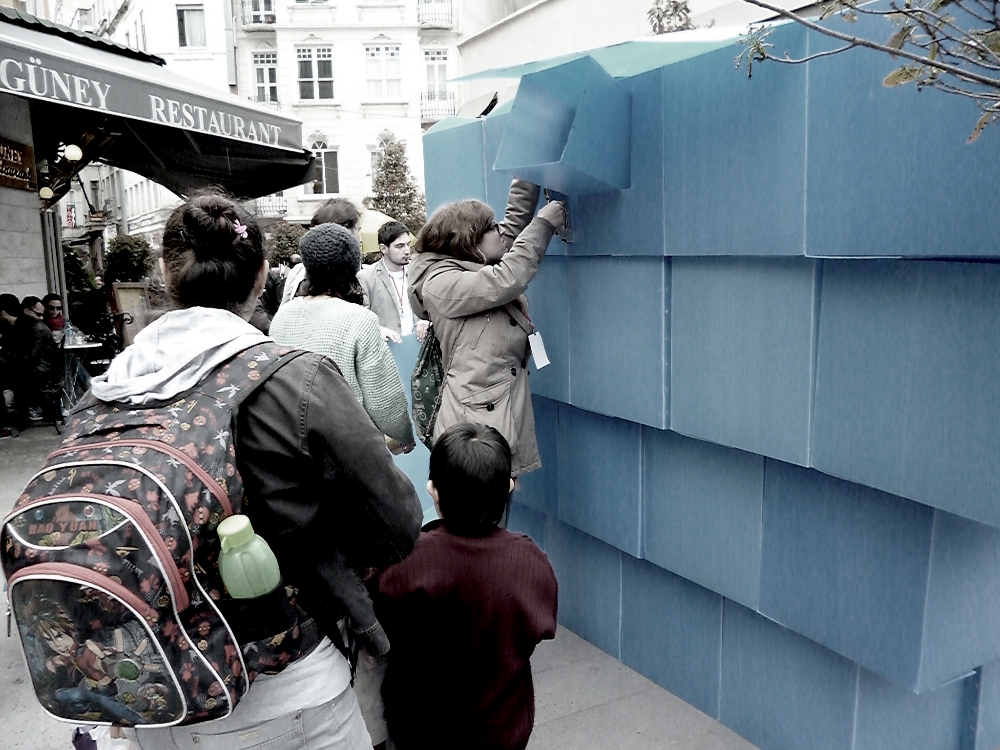 A parallel sample comes from a studio in Tallinn where the EAA fine arts students were asked to propose "actions" for the EAA empty lot in the very centre of the city. Controversy around the construction of a new EAA building – or "Art Plaza", as the winning competition entry  from 2008 was titled – has left a generation of art students without the experience of a compact school with solid track record in arts and crafts, benefiting from the proximity of its facilities for ceramics, glass, textiles, jewelry and blacksmithing, media, theory, design and architecture. Demolition of the old building started exactly three years ago, in April 2010, and the site is currently used as a parking lot. Established in 1914, the EAA is the only public university in Estonia providing higher education in fine arts, design and architecture, celebrating its 100th anniversary in 2014.
Following on-site observations, the students were asked to develop scenarios for recovering their land and propose ways to re-domesticate, re-appropriate the plot which belongs to them – to occupy their home. It is what some might call "tactical urbanism" except that this time it is not just about using the city as stage for human action or extending one's living room into public space, it is also not citizen activism or neighborhood improvement, neither "guerilla gardening" nor Park(ing) Day, but in fact re-colonizing Tallinn's urban heart of contemporary culture, a space which is on the verge of submerging to commercialization, giving in to market capitalist economy in its full expansion, just like Guy Debord saw similar trends in France half a century ago.
In market-driven language, by allowing the young contemporaries to stay in their original location, to rebuild and develop their home school in the very center of Tallinn and offer them an opportunity to work close to the community, in the epicenter, the city would root the creatives deeper in home ground – thus, the society would have the precondition to benefit from its investments in education. Since many of the ideas which were suggested by the EAA students during our studio would be fairly effortless to realize, at least in spring time or over summer when it is the warmer period of the year, then I would expect quite a few of the proposed "actions" to come to life next year for the EAA centenary jubilee, as long as their inventors behold the energy, willpower and clarity of vision to reclaim what is theirs. So please stay tuned for Tallinn. Today's students invent the future. If they do not, they have no future.