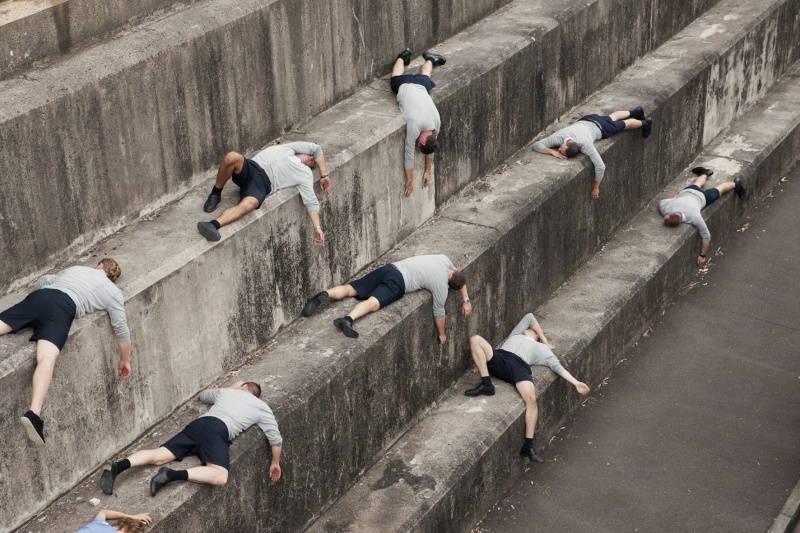 Eglė Budvytytė is a Lithuanian artist based in Vilnius and Amsterdam. Budvytytė creates performance situations to explore the relationships between body, architecture, environment and audience. The artist looks at the body's ability to challenge conventions of conduct and the narratives of normativity implicit in public spaces.
This year Eglė was selected to perform at the remarkable Block Universe festival to present the UK premiere of Choreography for the Running Male on Sunday, 4 June.
In the mobile performance Choreography for the Running Male, a group of men jog a route through the city. As they trace a path in unison, they carry out choreographed gestures relating to emotions ranging from shame to seduction, along with sequences referencing militaristic action. Coming from a country with a history of Soviet occupation, Budvytytė's piece, with its uniform choreography and sound of marching feet, inevitably speaks to mechanisms of social control. Using the idea of overt emotion, Budvytytė explores the flow-on effect when gendered bodies begin to act beyond expectation. This work investigates notions of socialized behaviour that infiltrate public consciousness and, as an extension, public space.
The performance is supported by Lithuanian Culture Institute and the Embassy of the Kingdom of the Netherlands.
About the festival
Block Universe is an art festival of newly commissioned performances, UK premieres, talks and workshops. The festival runs from 29 May to 4 June 2017 and presents work by some of the most exciting UK-based and international artists working in performance art today.
The performances will be taking place at renowned institutions, including the Royal Academy of Arts and Somerset House, as well as unique locations across the city.
This year's festival theme will address notions of nationhood, inclusivity and identity politics set against a changing socio-political landscape. Looking at networked communities and the power of collective voices, Block Universe will champion work that questions the status quo in divisive times.
Choreography for the Running Male by Eglė Budvytytė
Sunday, 4 June 2017, 12pm.
Free and open to the public
More information – www.blockuniverse.co.uk