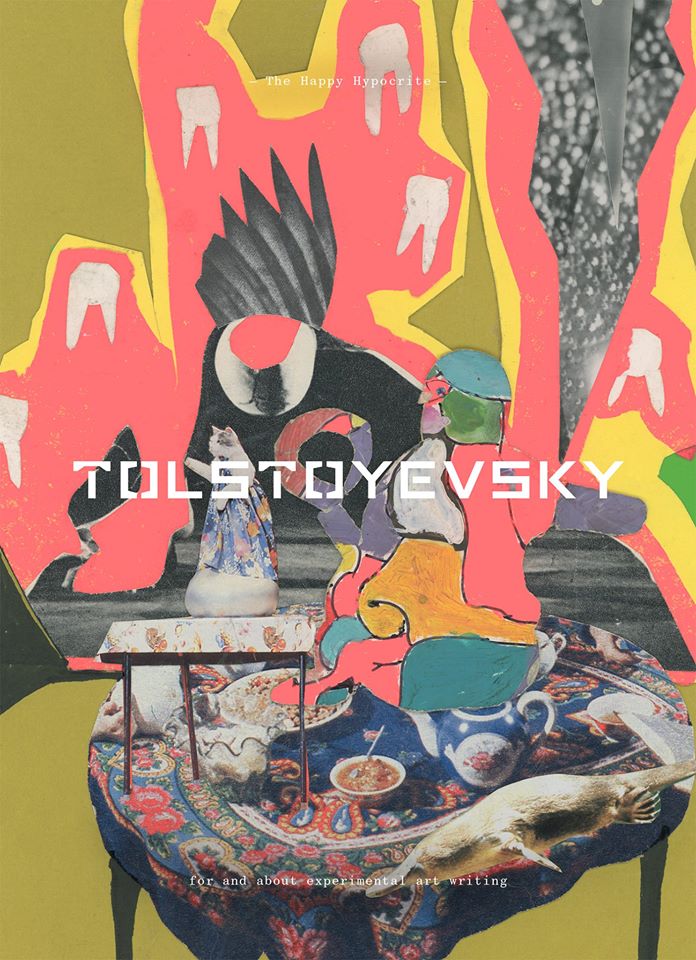 LONDON FESTIVAL OF ARCHITECTURE // The Building Site // The Happy Hypocrite – Tolstoyevsky
Reading
'Tolstoyevsky is not a Russian writer; it is a monster of sorts – a chimera, a composite of two and true to neither one nor a sum. It can make jokes (and threats) fly so fast they skip the funny parts. Here it lends its name to an issue that is about how humour is often not humour, or about how it sometimes doesn't work, and how half our lives are filled with things that don't work. Which probably means they work, right?'
– Virginija Januškevičiūtė, from the Outro
Erika Lastovskyte will read translated short stories by Jonas Žakaitis and Monika Kalinauskaitė from the 10th issue of The Happy Hypocrite – Tolstoyevsky journal, to examine how Tolstoyevsky's work relates to architecture. Established in 2008, The Happy Hypocrite is a publication led by artists' writings. Informed by a lineage of modern experimental and avant-garde magazines, such as: Bananas, Documents, The Fox, Merlin and Tracks, this periodical aspires to unpack the methodology of such key journals, whilst providing a brand-new approach to art writing.
With contributions and new work by ateate, David Bernstein, Monika Kalinauskaitė, Zoe Kingsley, Erika Lastovskyte, Michael Lawton, Candice Lin, Elena Narbutaitė, Nick Norton, Kim Schoen, Isabel Waidner, and Jonas Žakaitis. Complemented by old work (images, illustrations) from Pierre Bonnard, Giovanni di Paolo, Félix Vallotton, and Édouard Vuillard.
>>>>>>>>>>>>>>>>>>>>>>>>>>>>>>>>>>>>>>>>>>>>>>
The Building Site is an urban intervention and design installation at the London Festival of Architecture. It questions the changing ownership of public space in London and invites to reflect on the impact of rapid urbanization on local communities and natural ecosystems. The installation occupies a significant piece of public space to create a new 'building site'—a signature mark for London in transition. However, fenced off with construction site hoarding, The Building Site provides an unexpected forest-like experience inside.
We invite you to visit this hidden experimental garden in the heart of London and connect with the power of nature. Each weekend, The Building Site will host poetry readings, music performances, video screening, and debates. During these events, visitors will have a chance to explore the diverse and unique interpretations of human relation to nature.
———————-
Further programme:
Saturday, 30 June, 7 PM: CLOSING // The Building Site: You Pay, I Pay, We Pay, This Is Payment //LFA (by Milda Lembertaite and Amelia Prazak)
https://www.facebook.com/events/175312943158934/
✔️Follow the project and our events schedule here—
The Building Site / London Festival of Architecture
The Building Site: Opening: The Circle of Sutartinės // LFA
The Building Site: Voice Cracks // LFA
The Building Site: City & Nature // LFA
The Building Site: The Geology of Morals. E. Škarnulytė //LFA
The Building Site: Sūpynės Fest //LFA
The Building Site: Baltic View: Lithuanian Nature Films // LFA
Twitter: @buildingsiteLFA
Instagram: @buildingsiteLFA
📢Spread the word — #BuildingSiteLFA #LFA2018
#urbanforest #bathingintheforest #mygreenLondon #natureselfie #RealisBeautiful #visitLithuania
You can visit the pavilion on 8 – 30th June, 2018
open 11-19h daily*
*opening hours subject to weather conditions
In case of heavy rain, the event may be cancelled, check updates