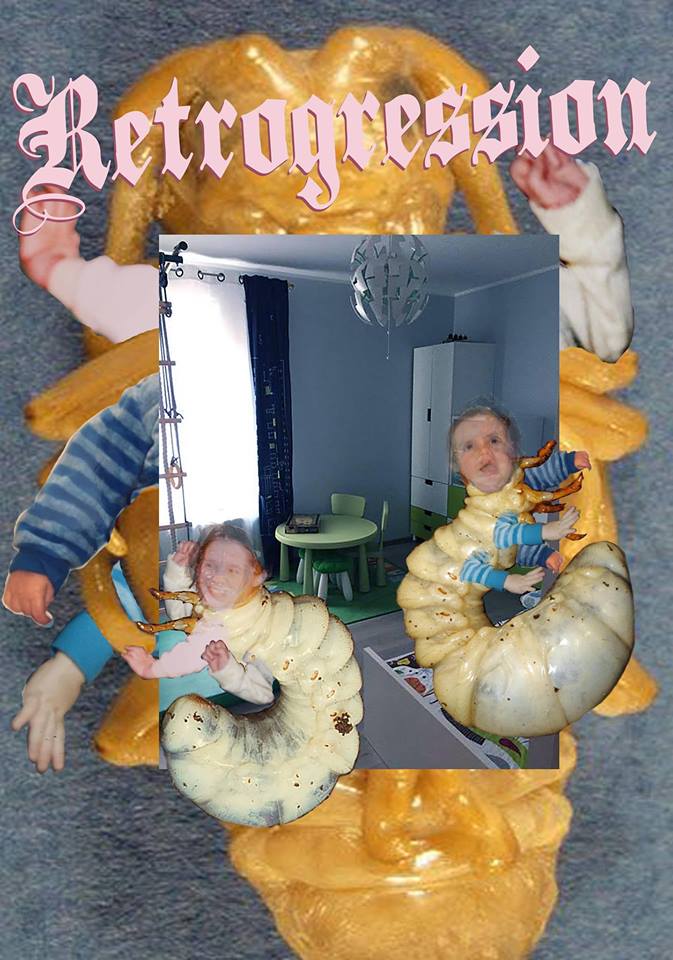 Beth Collar & Eoghan Ryan
Retrogression
24/04/2019 – 25/05/2019
Retrogression is the logical continuation of ongoing conversations between artists Beth Collar and Eoghan Ryan. Their first show, Juvenilia (2018) took as a point of conceptual departure, the revisitation of younger teenage selves during moments of particular ontological despair, Retrogression returns to an even earlier state..
The Pupa is the gestation sack that facilitates transformation from immature to mature in holometabolous insects. It is the hang-time between larva and imago. For Retrogression, the pupa is also the children's play room of the Airbnb that the artists are staying in. Working together in intimate, performative mode, the two devolve deeper into a fictionalised fantasy early childhood, into a pre-Homo Sapiens, pre-historic breach.
Retrogression works backward to act out the rat tailed maggot embedded up the arsehole before it becomes the top pollinator of flowers, in order to excavate a new understanding of something they don't yet know the question to and in doing so, (de)generate an exhibition.
Supporters: VKKF, Culture Ireland
The show will be on the view till 25 May, from Wednesday to Friday, from 4pm to 7pm