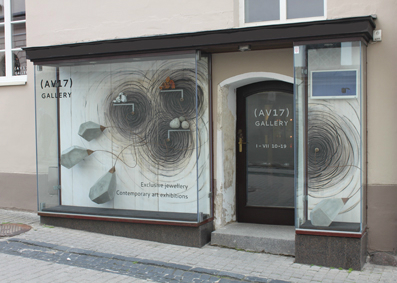 (AV17) GALLERY was established in February 2011 and is the only gallery in Lithuania which concentrates it's activity on both, visual arts and contemporary jewellery. Monthly changing contemporary art exhibitions create unexpected opposite with authentic XVII century spaces which can become a challenge worth decision for many artists. Gallery remains a unique space open to presentation of mature creative search of different art types. Exhibitions of jewellery, painting, graphics, photography, sculpture and video art are organised. Other part of gallery is intended for different artists' exposition of conceptual jewellery.
Even at the very beginning of its work (AV17) GALLERY already accomplishes most important objectives to cooperate with foreign and Lithuanian authors, galleries, art institutions, foreign academies.
(AV17) GALLERY already affiliated with such Lithuanian conceptual art creators like Adolfas Šaulys, Eglė Čėjauskaitė – Gintalė, Jurgita Erminaitė – Šimkuvienė, Ugnė Blažytė, Mindaugas Junčys, Nerijus Erminas, Andrius Erminas, Saulius Vaitiekūnas, Vygantas Vėjas and Aina Cicėnienė. Gallery also collaborates with foreign artists Andrzej Boss, Arek Wolski, Tanel Veenre, Gisbert ir Rose Stach and others from countries like Estonia, Poland, Finland, Germany, Holland and Italy. To introduce conceptual foreign artists in Lithuania, make Lithuanian artist more famous in international context – are the most important tasks for gallery. (AV17) GALLERY plans systematic organisation of contemporary art exhibitions which are orientated to the conceptual art spheres.
Address:
Aušros Vartų st. 17,
LT-0132 Vilnius
Lithuania
Opening hours:
I – VII 10:00 – 19:00
Contact:
E-mail: info@av17gallery.com
T: +37052125791