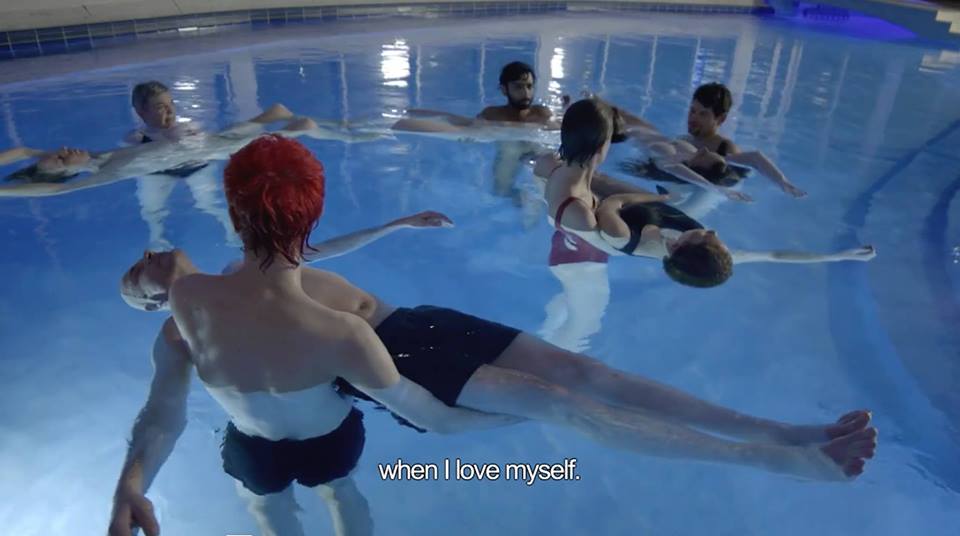 ARMY OF LOVE in Rundum artist-run space
screening, discussion and workshop
17.09 12:00 – 15:00, ARS building, Pärnu mnt 154, room nr 111
16:30 workshop at Audentes swimming pool, Tondi 84
On Sunday, the 17th of September Rundum artist-run space will host an Army of Love workshop in ARS building, Pärnu mnt 154, room 111.
Army of Love is a group of activists which has been created to offer all-encompassing sensual love—care, desire, sex, and respect—to all who need it, whether their bodies conform or not to the orthodox canons of desire, beauty, and physical and mental functioning. Inspired by Ingo Niermann's novel Complete Love, the Army of Love practitioners aim for an intimate completion of justice.
Do love and sexuality constitute a basic right? Should the community guarantee them? Should they be included among the resources distributed by the state? The discussion will be followed by body-contact exercises creating coherence between people that might not otherwise connect.
Everybody regardless of disability, age, gender, nationality or sexual orientation is welcome to attend!
The workshop is held by Krõõt Juurak, Adriano Wilfert Jensen and Michelangelo Miccolis.
Workshop schedule:
12:00 – 15:00 ARS building (Pärnu mnt 154, 1st floor, room nr 111) screening of the docu-fictional film Army of Love by Alexa Karolinski and Ingo Niermann (40 min, in German and English), followed by a conversation and body-contact exercises.
16:30 workshop in Audentes swimmingpool (Tondi 84): continuing with body-contact exercises in the water.
It is also possible to attend only film screening, discussion or pool workshop.
The workshop is held in English and Estonian. Free admission!
The event is part of the EV100 program 100 Art Landscapes and the public programme of Tallinn Photomonth '17 contemporary art biennial.
The event is supported by EV100, the Cultural Endowment of Estonia and Estonian Artist`s Association.
Thank you: The Estonian Chamber of Disabled People, Audentes Fitness, Ülase 12.
More information:
rundumspace@gmail.com
http://www.rundumspace.com/
http://www.thearmyoflove.net/