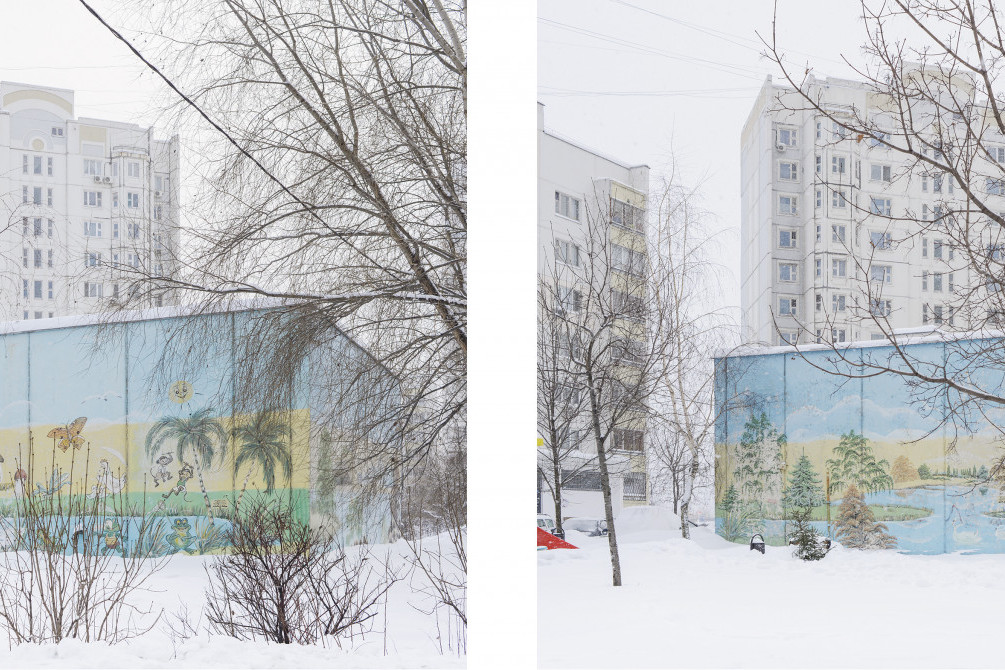 The exhibition "Schema" by Alexander Gronsky and Ksenia Babushkina is part of a joint project the artists have been working on since 2013.
The diptychs and polyptychs, taken in various countries (Russia, Japan, Azerbaijan, etc.) are presented by the artists as a playful take on the perception of space and time. This seemingly superficial, exciting game of "spot the difference" is of a specifically photographic nature. Differences in the angles, locations or time of the shots encourage the viewer to compare them with each other, but the diverse images are ultimately linked only by the sense of confusion they cause.
Gronsky and Babushkina's book "Schema" was published by Orbita in 2016. The exhibition at the ISSP Gallery also features work created during 2017 – 2018 in Moscow and St. Petersburg, seen here for the first time.
ALEXANDER GRONSKY (1980)
At the Paris Photo international art fair, Gronsky goes buy the title of Estonian photographer, since he was born in Tallinn. When photographing Japan, he represents Latvia, because he has lived in Riga. Gronsky easily crosses borders – not just between genres, but geographically. He has received several significant awards: the Foam Paul Huf Award, Aperture Portfolio Prize, World Press Photo, Linhof Young Photographer Award, the Russian Innovation award, as well as being nominated for the Kandinsky Prize. The artist's work has been exhibited throughout the world and is held in private and museum collections. Currently Gronsky lives in Moscow.
KSENIA BABUSHKINA (1988)
Sociologist, artist and educator Ksenia Babushkina studies contemporary visual culture and curates educational programmes in photography. She recently started researching the phenomenon of video blogging. Born and grew up in St. Petersburg, lives and works in Moscow.
Curator: Anna Volkova