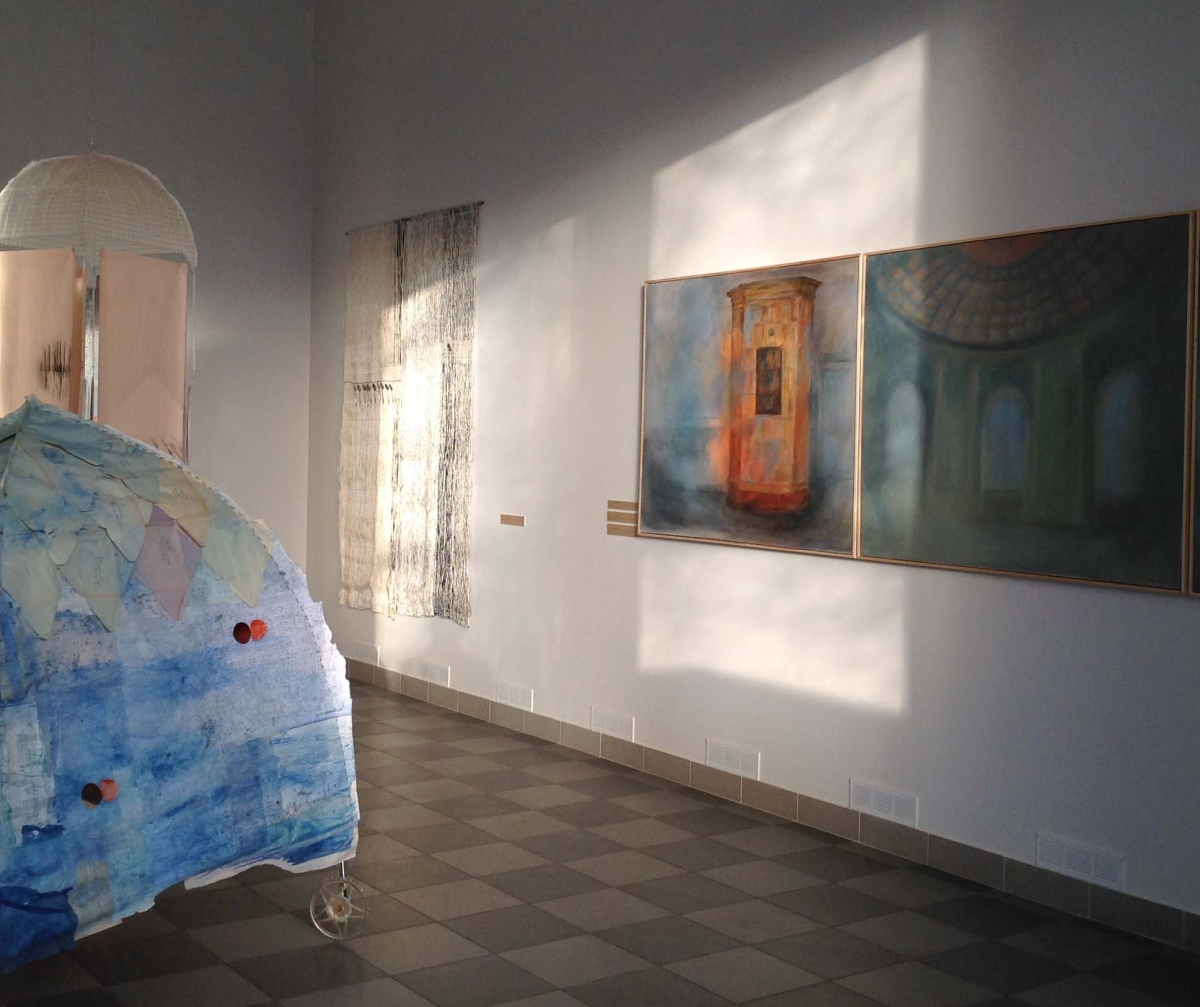 20 year ago three female artists, good friends and lecturers at Tartu Art College, decided to do a joint exhibition. This is how textile artist Aet Ollisaar and painters Heli Tuksam and Tuuli Puhvel came together. The exhibition SOMEWHERE ELSE in gallery NOORUS brought them together once again, to celebrate anniversaries – personal jubilees as well as twenty years passing from the first joint exhibition. Now it will be possible to see the exhibition in Imatra, at Kulttuuritalo VIRTA.
Their first joint exhibition took place in Tartu Art House, showing a collection of stained glass objects and three-dimensional tapestries. With short intervals joint exhibitions were held in Porvoo (Finland), Kohtla- Järve and Narva. Later on, the authors have participated together in international exhibitions – SEA in Tartu and Odensee (Denmark) and in SELECTED in Tartu, Brno (Czech Republic) and Pärnu. In addition to that, to this day all the authors have held several personal exhibitions and participated in shows in Estonia and abroad. As long-time lecturers of Tartu Art College, they have tutored and inspired hundreds of students.
Aet Ollisaar considers the time she can let go and meditate for hours in front of the warp to have an immense value and to be in sharp contrast with the rush of everyday life. She started participating in exhibitions with large-scale tapestries, but the change of times and possibilities have driven her to look for new ways to express her ideas. Her signature and choices have modified – often the works are born through materials. More and more, improvisations with found objects and controversial materials have become an addition to weaving. Finding objects, keeping and admiring them, form an important part of a work's story. Almost every artwork carries a story of objects and materials that have been used.
As a stained glass artist, Heli Tuksam likes to work in the limited conditions provided specific places, taking into account their architecture and environment while creating the artwork. Every place has its own story and people. With the help of light, coloured glass can become a greeting, an invigorating focal point or a mellow companion. Stained glass is a demanding art technique that requires calculated realization. At the same time, right choices and noble materials, provide the artwork with a long life span. Having recently dedicated to painting and sgraffito-technique (a variety of monumental art), her exhibited works focus on romantic space.
Tuuli Puhvel has participated in exhibitions with paintings, works of stained glass, textiles and installations. For a long time, watercolour has been the medium of choice for the author. She admires the simplicity, spontaneity and the subtle tensioned balance of composition of Japanese ink paintings. The same characteristics can be found in her landscapes painted with a single breath. Tuuli has said: "When I'm painting or embroidering or braiding or gluing or matching pieces of glass, I actually don't know where it will take me. When I have an idea or a plan, I set out to complete it, but very soon different inviting paths appear left and right leading me to ways I had not imagined at first. Completing an artwork can be suspiciously similar to pleasantly roaming in the outskirts of a town or to a carefree and joyful bike ride in the labyrinths of forest and gravel roads. To be, what I do – to be painting…"
Curator and exhibition designer: Madis Liplap
Exhibition in Finland is curated by Juhani Järvinen
Graphic design: Kadri Toom