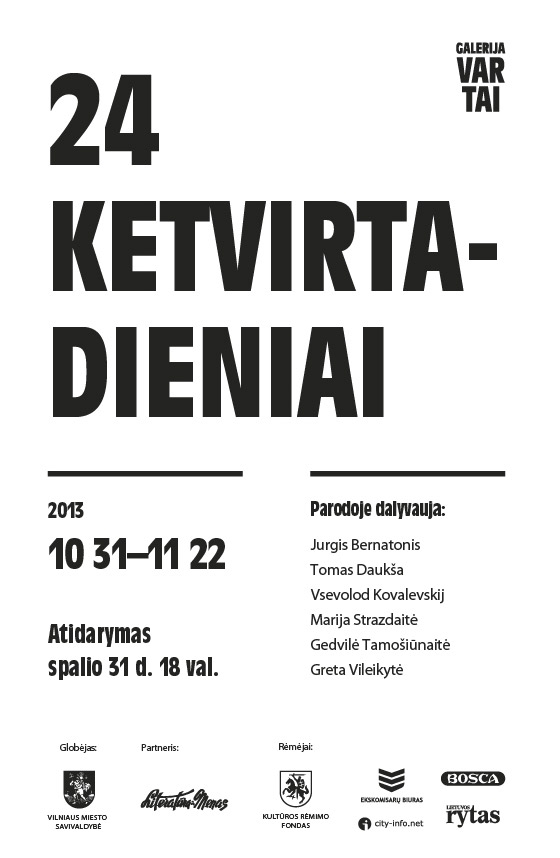 On Thursday, October 31, 6 pm, Galerija VARTAI will open the exhibition "24 Thursdays" covering the last half-year of the Thursday Review project. With the project changing its format, it is the last opportunity to take a look at the intensive streak of public reviews and meetings with artists that took place every Thursday in one of the Gallery's rooms for over 1.5 years. Each review featured the latest works of a single artist, and analysed the evolution and uniqueness of his or her work. Concentrated one-hour reviews focussed on making art more comprehensible, intimate and familiar to every visitor.
The Thursday Review project grew stronger and richer during the period from January to July, gaining new experiences and forms, evolving into a more exhaustive database of young visual art and a more flexible platform introducing young contemporary art. Among the 24 projects, there was a lot of contemporary photography, objects, and installations that would transform the space of the room. On a few instances the visitors became participants of performative acts and watched performative videos. The events also remembered the technique of collage, while the projects of contemporary painting and graphics enabled to go back to conventional exhibitions and to discuss the recurring problems of these techniques.
Just like in the previous surveys – "21 Thursdays. Summary" and "27 Thursdays" – a paper featuring exhaustive introductions of all the participating projects was published on the occasion of "24 Thursdays". Nevertheless, the last survey exhibition is much more concentrated than the previous two. This time, the highlights of the surveyed period are exhibited only in the space of the former Review Room. The artists were selected with an aim to remind of those who stepped into the Lithuanian art scene through the threshold of the Review Room – the works of these artists were previously known only to the aficionados of young art mingling with the academia of the Vilnius Academy of Arts. As representatives of the same generation, artists use an extremely wide variety of techniques to address similar problems. Thus, "24 Thursdays" will once again provide an opportunity to see the attempts to capture light in Marija Strazdaitė's drawings and the captured and trapped light in the object by Tomas Daukša; Vsevolod Kovalevskij's sound object and Greta Vileikytė's video will appeal through the study of landscape and media, while the photographs by Gedvilė Tamošiūnaitė and mezzotint prints by Jurgis Bernatonis will feature portraits of people who wish to look beautiful and powerful.