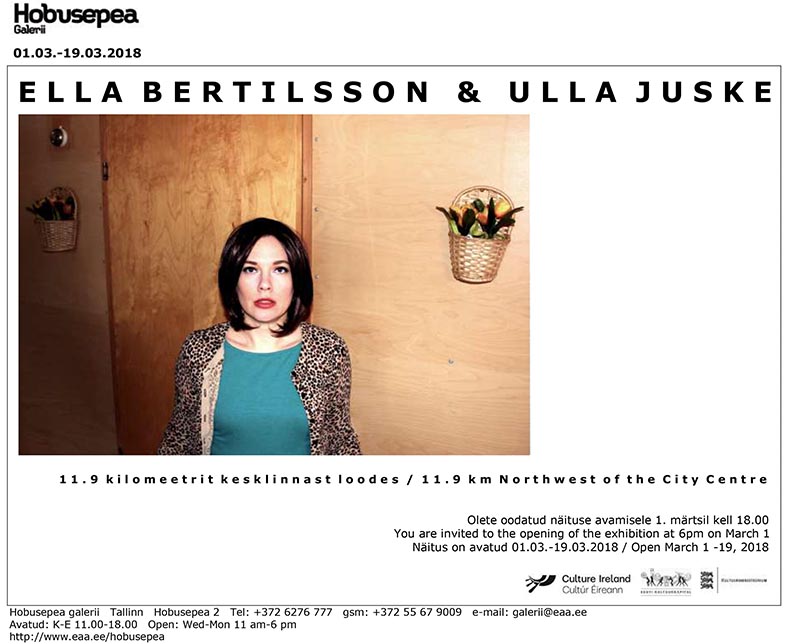 ELLA BERTILSSON (1982) and ULLA JUSKE (1986) will open their co-exhibition 11,9 km Northwest of the City Centre in Hobusepea gallery at 6pm on Thursday, March 1, 2018.
There are palm trees everywhere in this country.
Ella Bertilsson and Ulla Juske will present a glimpse into Rainy Days in Blanch, a family sitcom recorded in the iconic Blanchardstown Centre (Dublin) in the weeks before its official opening in 1996. Original video recordings and a replica studio set will be showcased in Hobusepea Galerii Tallinn in an exhibition titled '11.9km Northwest of the City Centre'.
Starring an all-female cast, Rainy Days in Blanch portrays a multigenerational family and their family friend. Each character shares directly with the audience an account of a memory, dream or nightmare. These previously unaired stories speak about house, home, family, and migration, as well as fear, paranoia, displacement and territory.
The exhibition is the product of research and practice undertaken by the artist-duo (SWE/IRE & EST/IE) during their recent residencies in Draíocht Arts Centre (Ireland) and Nordic Artists' Centre Dale (Norway) and has been kindly funded by Culture Ireland and the Cultural Endowment of Estonia.
Ella Bertilsson and Ulla Juske started to collaborate during their postgraduate studies on the MFA; Art in the Digital World Programme at NCAD, Dublin (2015). Together they construct non-linear narratives that drift between fact and fiction, past, present and future. These narratives become the catalyst for developing installations that are exploring the relationship between time and memory, place and identity.
Exhibition will be open until March 19, 2018.
The artist would like to thank: Draíocht Arts Centre, Nordic Artists' Centre Dale (NKD), the Irish Embassy of Estonia, The Theatre Department of United World College Nordic Flekke, Hartstown Community School, Institution of Technology Blanchardstown, Draíocht Arts, Centre Youth Theatre Group, Corduff Community Centre, Phoenix FM's podcast 'Africans in Ireland', Reet Varblane, Annelie Gardell, Sharon Murphy, Catherine O'Keeffe, George Brennan, Austin Hearne and Michelle Hall.
Exhibitions in Hobusepea gallery are supported by the Cultural Endowment of Estonia and Estonian Ministry of Culture.